Restaurants
Eastbourne is lucky to have a large selection of excellent resturants including French, Italian, Thai, Chinese, Turkish, Indian and many more. Some of our favourite restaurants inculde Dal Maestro, Pomodoro, Ganges and the Siam Orchid. Ask us about eating places and we will be more than happy to guide you to the best place and even book you a table if you need to.... particularly advisable at weekends and bank holidays!!!


Night Life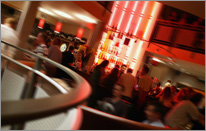 Eastbourne has a very diverse and large selection of night clubs, wine bars and award winning lounges. The town might have a reputation as 'God's waiting room' but our younger clientele are pleasantly surprised when they see what Eastbourne has to offer. Some of our favourites watering places are The Loft, Hudsons, Atlantis, Flava and The Hart which are all a short walk (stagger) away from the da Vinci.


Events
Eastbourne holds a number of well supported events throughout the year including the famous International Lawn Tennis Championships which takes place just around the corner from the da Vinci. Other regular attractions in Eastbourne include the annual Airbourne Airshow, Magnificent Motors, Eastbourne Extreme, the Victorian Festival and the Beachy Head Marathon. Further information about these events are available on our facebook page.